Podcast: Roma youth conference – The momentum for change
September 27, 2011 - Roma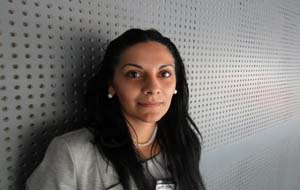 Terezia Rostas, UK Gipsy Council
Today is the start of the Roma youth conference, an opportunity for young community leaders to gather in Strasbourg to discuss common concerns and interests.
The fightback against rising Euro 'Roma-phobia' is the background to this meeting of some 50 young Roma leaders for a conference themed 'Voicing the aspirations and projects of Roma Youth in the Council of Europe.'
In a message of support,Thomas Hammarberg, the Commissioner for Human rights, said "the need to break the vicious circle of prejudice and marginalisation of the Roma in Europe is of the utmost urgency."
The event brings together young Roma leaders to assess the priorities and aims of the organisation's Roma Youth Action Plan.
In this podcast, Dr Rene Weingärtner, the Council of Europe's Director of Youth and Sport joins the European Roma Rights Centre's Anca Sadescu and the United Kingdom Gipsy Council's Terezia Rostas (photo).
They discuss the urgency of the conference, the role of Roma young people as "change-multipliers" and the challenge of cynicism.

 councilofeurope - 20110927_Roma Youth Conference:The Momentum For Change
17.31mb, 18:54, 125kbit, 136 downloads