Participants in Roma Youth Conference in Strasbourg call for paying attention to anti-gypsy protests in Bulgaria
Strasburg, 28/09/2011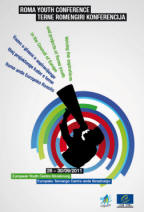 The participants of the Roma Youth Conference in Strasbourg, are concerned about the current rise of extremism, racism and anti-gypsyism in many European countries, and particularly about the unbearable increase of violence and hatred in Bulgaria, Czech Republic, Hungary and other places across the Europe.
Right now, all over Bulgaria, including major cities, extremist groups led by the far-right political parties VMRO and ATAKA and joined by football hooligans are running pogroms in Roma neighborhoods creating a climate of fear and insecurity.
Since September more than eight anti-Roma marches were organized in the north of Czech Republic. The increase of violence and clashes between Roma and non-Roma are becoming a daily terror for local people. Slogans such as "gypsies to the gas chambers" remind us of Nazi persecution of Jews and Roma.
In Hungary series of murders happened over the last two years, Roma houses were burned and the mobilization of the paramilitary organizations was tolerated by local authorities.
In other countries, especially in the Western Europe such as in Italy, France and Germany we are witnessing the violation of Roma migrants' rights.