In New York for the 49 th Session of the CEDAW Committee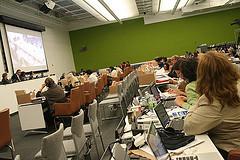 From July 9 to 15 Malena Halilovic, a member of the Romà Onlus, was in New York to attend the 49th CEDAW session, the Convention for the Elimination of All Forms of Discrimination against Women, held at United Nations Headquarters.
Here is the story of her experience:
"Some months ago, Romà Onlus contacted me to tell me that the ERRC (European Roma Rights Centre him) was looking for girls to do a research on the  situation of Roma women in Italy and that I was selected along with other Roma girls. During the course they taught us to do interviews. Then we began the research, that lasted 8 months. The Women i met were collaborative and recounted the many incidents of discrimination they suffer every day. It was a long and difficult work. Once I finished the interviews, I have sent it to ERRC who drafted the report. Later, ERRC has chosen me to go in the United States and present it to the CEDAW Committee, together with a representative of the ERRC during the  49th session of the CEDAW Committee.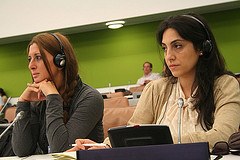 I was very happy because I could bring the voice of Roma women in the United Nations and promote our rights.
During the  session the CEDAW Committee  periodically review what the governments of various countries  did  to achieve the goals they have accepted by signing the Convention.
Before attending the session itself, for the first 3 days I attended the training "From Global to Local: an agreement for the monitoring and implementation of the Convention" organized by the NGO IWRAW Asia Pacific.
The day after training, we had the hearing with the commission. I read a letter in which, in addition to present myself, I briefly explained  the situation of Roma women in Italy with particular reference to issues related to education, the "nomad camps", the lack of identity documents and the violence and abuse.

Then the committee heard a delegation from the Italian government who spoke about some institutions, as the Unar, that have the responsibility to fight discrimination of Roma. 
In addition, participation in the session was very interesting because I got to listen to women from countries as diverse as Costa Rica, Zambia and Ethiopia."